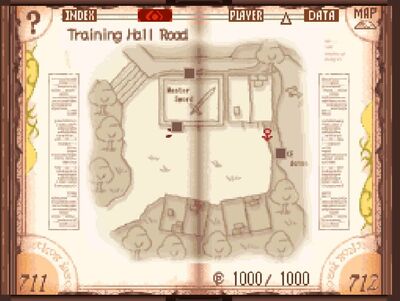 In game description:
"Where Gustav's training hall is found. Carrying a weapon here and you're asking for a deadly duel with him. Children also play here by often break the windows of the training hall. Those who have felt Gustav's wrath now call this place Wrath's Domain."
List of things to explore:
River - "You can see the fish in the water. This water is also drinkable."
Training hall entrance - "A fortress-like training hall. Its name is written in front."
Wall from arena - "You dropped from quite a height!. You can't go back up this way"
Reward from completing - None
This area also has a flower which can be code scanned. (Howl Grass)
Adjacent Areas:
North-West: Center of Town
Center: Training Hall
North-East: Duran's House
South-West: Town Entrance
Ad blocker interference detected!
Wikia is a free-to-use site that makes money from advertising. We have a modified experience for viewers using ad blockers

Wikia is not accessible if you've made further modifications. Remove the custom ad blocker rule(s) and the page will load as expected.